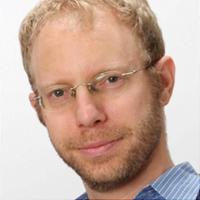 Adi Livnat
Cluster:
Directionality in Genomics and Macroevolution
Project:
Mutation rates, variational specificity, and genomic directionality
Role:
Subaward Principal Investigator
Adi Livnat is an Associate Professor in Evolutionary and Environmental Biology and the Institute of Evolution at the University of Haifa in Israel. He is interested in the fundamental question of how evolution happens. He has developed a theoretical account - Interaction-Based Evolution - which argues that the mutations driving adaptive evolution can be neither random nor Lamarckian: they can respond in general not to information that comes directly from the immediate environment (as in Lamarckism) but to information that has accumulated in the germline genome as a result of evolution. Thus, evolution results from co-evolving interactions of mutation-specific probabilities of origination and selection. One empirical prediction of this account is that mutation-specific rates can come to respond to specific selection pressures following multiple generations under selection. The Livnat Lab has developed a variety of novel genomic methods to test these predictions across loci and organisms.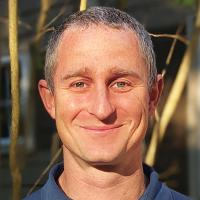 Craig Lowe
Cluster:
Directionality in Genomics and Macroevolution
Project:
The genetic basis of macroevolutionary trends
Role:
Subaward Principal Investigator
Craig's background is diverse in that he has significant training in both computational genomics and developmental genetics. His undergraduate education is in computer science, with a focus on machine learning. For his graduate degree, he worked to apply his computational skills to the analysis of some of the first vertebrate genomes. For his postdoctoral studies, he focused on developmental genetics so that he could perform experiments at the bench to test his computational predictions. In his own lab, he mixes computational genomics and experimental genetics to establish a virtuous cycle. The computational predictions define a set of promising candidates for wet-lab experiments. The wet-lab experiments then either support or disprove the computational predictions, which allows his group to then improve the computational model. This diverse background has allowed him to create an interdisciplinary environment where his lab has had students with backgrounds in mathematics, neuroscience, developmental biology, and genetics.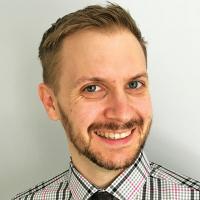 Beckett Sterner
Cluster:
Directionality in Genomics and Macroevolution
Project:
New tests of directionality in fossil lineages
Role:
Subaward Principal Investigator
Beckett Sterner is a philosopher of biology with a background in statistics and computational modeling. His work on evolutionary tempo and mode, biological individuality, and information aims to uncover novel ways of approaching scientific problems and challenges for objectivity given different background assumptions, e.g. about whether models are adequate to represent the phenomena. More broadly, Sterner studies the social epistemology of pluralism: what knowledge do we need to get things done together while differing in fundamental ways? He investigates this question in the context of the life sciences, where globally coordinating data-intensive research has taken on central importance for addressing societal challenges such as biodiversity loss and climate change.